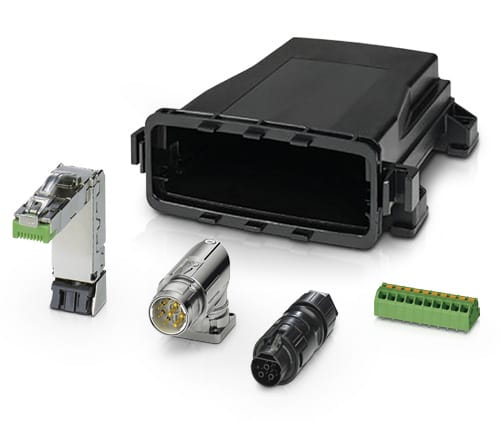 The Right Connection for Reliability and Function
Innovative products designed for your most demanding applications
Whether your need is for a PCB-based connection solution, a circular design, or an entire enclosure, Phoenix Contact offers a broad range of copper and fiber-optic products designed to provide a reliable connection — no matter the conditions of your application. Communicate, power, and control your operations confidently with reliable, high-quality connection solutions.
Click a product category to learn more.
PCB Connectors
PCB terminal blocks and connectors enable the easy and safe transmission of signals, data, and power directly to the PCB。 The space-saving connection method is suitable for numerous applications in industrial environments。 High currents and voltages can be transmitted safely and reliably through the housing panel with panel feedthrough connectors。 Board-to-board connectors from the FINEPITCH series allow you to realize individual PCB orientations with different designs, stack heights, and numbers of positions in compact 0。8 and 1。27 mm pitches。
Electronic Enclosures for Modern Designs
幸运农场 A wide range of options in terms of shape, color, and function – this is the central idea behind electronics enclosures from Phoenix Contact。 Whether on a wall or on a DIN rail, from light gray to sky blue, narrow or wide — you will always find the right housing and integrated components for your electronics。
Robust Through-Panel Circular Connectors
幸运农场 From small to large, straight or angled, molded or for on-site assembly — you will find the appropriate design for your specific application at Phoenix Contact. Reliable transmission of signals, data, and power is made possible thanks to the use of shielded metal housings. Save time during connection, with innovative solutions for devices with all industry-standard degrees of protection.
Ruggedized Data Connectors for the IIoT Environment
Transmit data safely and reliably using connectors from Phoenix Contact. Thanks to the wide range of types, codings, and mating faces, you can flexibly implement consistent solutions for data transmission. The product range includes copper and fiber optic-based and pre-assembled connector systems, as well as connector systems for assembly.
Want More Phoenix Contact?